15 november 2016: Native Americans have a sense of humour and can be geek too! The first Indigenous Comic Con.
« Geek culture is alive and well in Indian Country!  » claims Arigon Starr, Native American singer and cartoonist, creator of Super Indian.
In the wake of the exhibition « Native Realities: Superheroes of Past, Present and Future » held at the Form & Concept Gallery in Santa Fe, and prior to the first Indigenous Comic Con that will take place in Albuquerque at the National Hispanic Cultural Center next week-end, I'll try to answer why reclaiming geek culture matters to young Native American artists and activists.
In the past decades, there have been an increasing number of Native American artists (cartoonist Jeffrey Veregge, a collaborator of Marvel comics, or singer and comedian Arigon Starr to name a few) who have embraced the Internet to promote indigenous perspectives on geek culture and humor.
However, according to Doctor Lee Francis IV (Laguna Pueblo), who is CEO and publisher of Native Realities Press, Native-Americans who try to subvert or reclaim the codes pertaining to geek culture are still marginalized in so far as they continue to be "historicized, seen as artifacts or relics."[1]
Dr. Lee Francis IV told Indian Country Today's Brian Daffron that the organizers of the first Indigenous Comic Con were looking for positive images : « We're vetting the folks that we want to come in. We're not going to be bringing in folks that were in a random Indian movie. We want folks who are going to be thoughtful about the portrayals, whether they're a comic book creator, an actor, someone doing games or science fiction. Being very thoughtful about the work that they're putting into the world because of all these stereotypes and historicizations. The sheer number of folks we're trying to get on panels and the conversations that we want to spark, I think, are going to address those negative representations of Indigenous people in pop culture."
He also coined the expression "Indigenous Futurism" and explained to the journalist: "We are both present and we have a positive and productive future where we exist, where we thrive, and that's what we want to show."
Indeed, representation of indigenous people in mainstream media -with drawings or pictures of unsmiling stern horse-riders– has often contributed to convey the assumption that Native Americans lack a sense of humor.
Monty Roessel (a Navajo photographer and former director of Bureau of Indian Education) insisted that the image of the stoic Indian also served to characterize the hogan, the traditional dwelling place of Navajo people, as rampant with poverty and utterly devoid of technology.[2]
Several studies have shown how the geek figure has evolved from a derogatory masculine embodiment (the computer nerd, unattractive despite his mastery of technology, a socially awkward teenager who is usually bullied by his peers) to a positive definition including mature males and women displaying a wide array of intellectual and social skills.[3]
While nerds were definitely derided and scorned, geeks became fashionable. In TV shows, geeks characters tend to be less and less laughed at, while audiences laugh more and more with them. Geeks are portrayed coming from different ethnic backgrounds and countries such as Indian astrophysicist Raj Koothrappali from The Big Bang Effect, Black-American Chief-engineer Geordi LaForge on Star Trek the Next Generation…
The sole Native-American geek character who seemed to have made it to screen has been Thomas (played by Evan Adams, a Canadian and Coast Salish actor) in Smoke Signals, a 1998 film directed by Chris Eyre with a screenplay by Sherman Alexie. Wearing oversize glasses and indulging in stories no one was interested in, Thomas was not the prototype of the popular dude on the Rez.
Nonetheless, artist Arigon Starr has made a point in all her interviews to reclaim geeky humor as something alive and well among Native Americans. She has stated: "Geek culture is alive and well in Indian Country!"
Why is reasserting geek subculture as something intrinsically Native relevant to understanding contemporary Native American activism?
To answer this question, I invite you to read Arigon Starr's comments on this issue.
A Native American woman artist, known for her radio shows, funny songs and her super hero comic book entitled Super Indian, she is highly considered as an advocate for Native rights inside and outside her tribal affiliation.
Geek humor is a way to fight stereotypes about Natives lacking techie skills, it also shows that geeks and Native-Americans share a common past of oppression to a certain extent.
I reproduce part of the interview she gave to Indian Country Today and many excerpts from the website Bitchmedia.
On Native folks and humour :
"So often Native folks are never shown having a sense of humor and being funny is important to my work. You only have to give a listen to my song "Junior Frybread" or experience some of the characters in my one-woman show "The Red Road" to know my engine is fueled by laughter."
check out : http://indiancountrytodaymedianetwork.com/2012/06/14/chat-arigon-starr-creator-super-indian-comics-118363
On protecting traditional lifeways and at the same time denouncing stereotypes about Native Americans :
« There is a lot of social consciousness evident in "Super Indian," but disguised in humor. You can look at it as satire or parody – but underneath the yuks, it's great to explore issues of identity, community and how Native folks are perceived. I really mulled over what tribe Super Indian would belong to when I was creating his world and decided that, to keep it fair, he would belong to the fictional Leaning Oak Tribe. I know that my own community, the Kickapoo Tribe of Oklahoma, is very protective about what details they divulge about lifeways and traditions. »
check out : http://indiancountrytodaymedianetwork.com/2012/06/14/chat-arigon-starr-creator-super-indian-comics-118363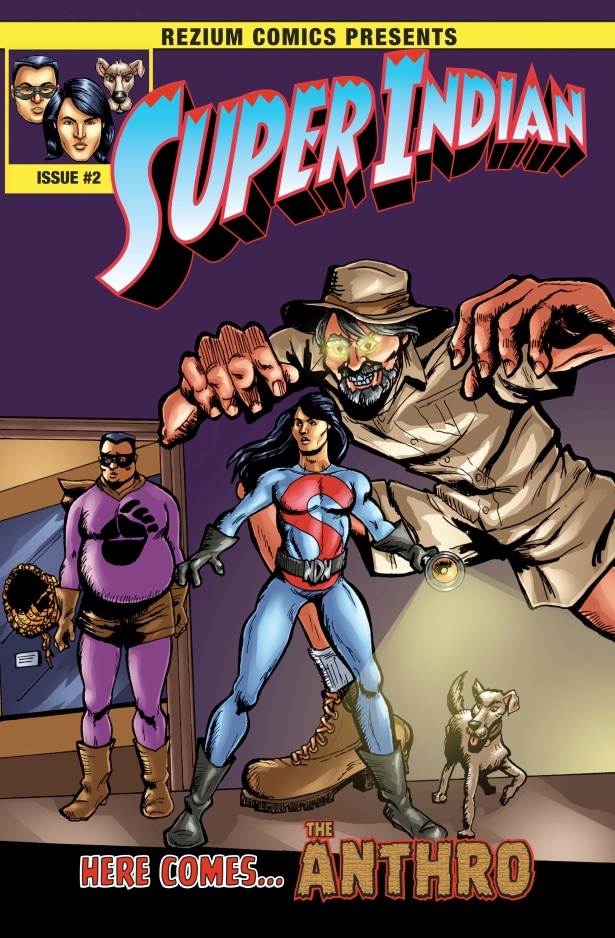 On super hero stories and Native American life :
« There aren't many Native American superheroes [one of the few examples is Dany Moonstar, a Cheyenne superheroine from the Marvelverse] and even fewer that have been created and drawn by Native Americans. In mainstream comics there were Forge and Dani Moonstar in X-Men, but they aren't as well-known as Batman or Iron Man. You can read a detailed history of Native characters in Michael Sheyashe's book Native Americans in Comic Books: A Critical Study.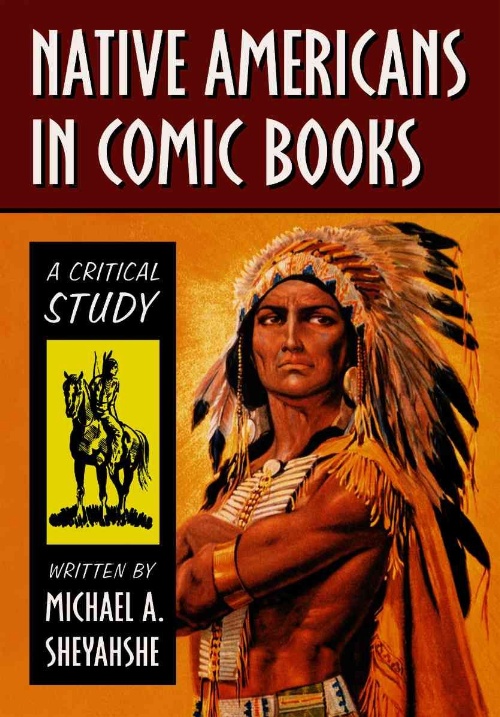 However, the tide is turning. There's a group of Native artists and writers like Teddy Tso, Jon Proudstar, Jacques LaGrange, Roy Boney, Ryan Huna Smith, and Weshoyot Alvitre working in the comic industry and creating their own comic books.
The thing I love about superhero stories is someone normal transforming into the extraordinary. How would Wolverine or Wonder Woman be different if they came from an Indian nation? The superhero genre lets you explore the fantastical and have fun while you're doing it. When I describe the « sitch » of Super Indian—a rez boy eats tainted commodity cheese and gains super powers—it gets a big laugh. »
On geek culture as part of a Native American identity :
« I know I'm not the only Native American who's attended a comic convention, watched every Battlestar Galactica episode, or debates the worthiness of the Chakotay character on Star Trek: Voyager. [4] Geek culture is alive and well in Indian Country!
Over the years, I've included this side of myself in my other work. On my second CD, there was a punk-rock tribute to the vampire Spike from Buffy The Vampire Slayer. My one-person show « The Red Road » has a teenage fangirl character named Loretta who quotes liberally from Star Trek. My mother raised me with Star Trek and The Hobbit. My Dad was a huge fan of horror movies. My sister and I must have watched the Brian DePalma film Phantom of the Paradise hundreds of time. Geek culture is traditional in my family! »
Check out the whole interview at : https://bitchmedia.org/post/beyond-the-panel-an-interview-with-arigon-starr-of-super-indian-part-one
Sources :
[1] Taté Walker (Mniconjou Lakota) « Making Space for Indigenerds » Native Peoples Magazine, March-April 2016.
[2] Roessel, Monty. "Navajo "Voices." In Expedition, Vol.37, No 1 (1995)
[3] Paul Martin Lester,Susan Dente Ross. Images that Injure: Pictorial Stereotypes in the Media, Praeger, 2003, p.236-241.
[4] Katja Kanzler. « A Cuchi Moya! » Star Trek's Native Americans in American Studies Journal, n°49, 2007.
In 2015, Phoenix's Heard Museum of Native Cultures and Art also curated an exhibition titled Super Heroes: Art! Action! Adventure!